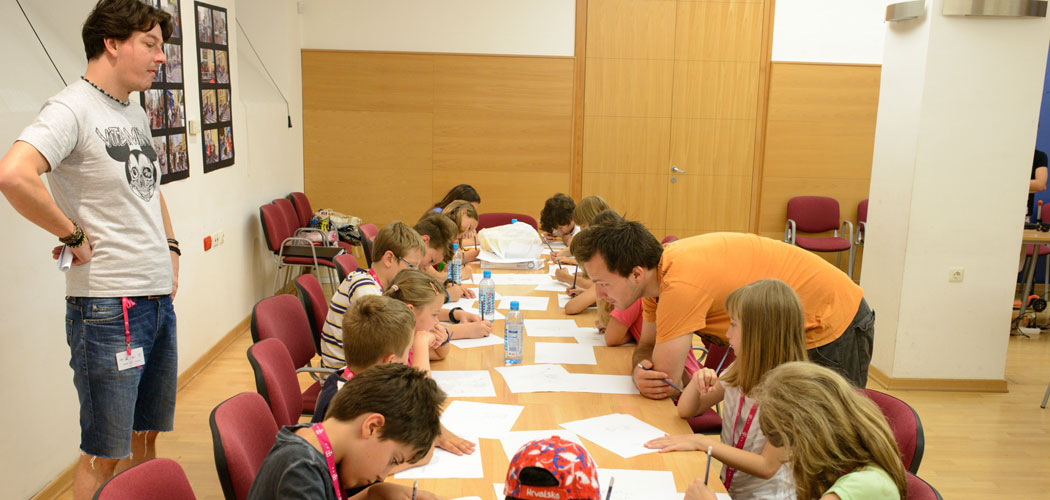 ANIMATED FILM WORKSHOP

DATE: JULY 12-20, 2017
VENUE: Circolo – Italian Community Pula (grand hall, ground floor)
WORKSHOP LEADERS: Manuel Šumberac and Vibor Juhas
"Once upon a time lived a beautiful princess, with cheeks as red as roses, and skin as white as snow. This is why they named her Snow White." This is, of course, from a famous animated film that we have all seen and retold a hundred times. But did you know that this was the first feature animated film? Did you know that Mickey Mouse, the name of one of the most popular cartoon characters, is also the title of the first animated sound film? Have you ever wondered what animated film actually is? How is it different from feature films or documentary films?

An animated film is not just any type of animation - it has to have a plot, and the characters and background are drawn. If you are ready to give life to a range of your drawings, tell a story through movement, let your imagination free with us, and breathe in the love for film art, Professor Baltazar's Adventure Laboratory is eagerly awaiting you.
ABOUT THE PROGRAMME:
The workshop is designed as a one-week programme where children will be introduced to the techniques of making and producing animated film. All of the segments of this process are elaborated: developing a story, developing the script, creating characters and their personalities, the basics of animation and production.

A part of the introduction will be dedicated to classic animation, and simple and fun exercises to understand the basic principles and rules of animation, such as squash & stretch, etc.
The workshop will give the participant a chance to see segments of some of the highest quality professional and amateur animated films.

After the introduction and the basics, we will continue by making a short jingle for Pulica, where the participants of the workshop will work with a mentor to go through all of the segments they have learnt in the "theoretical" introduction. The technique the participants will be introduced to is a combination of CGI and Cut-Out animation. The elements and the basis for the jingle will already be prepared, and the participants will put their work and ideas forward to influence their final composition, production and post-production.
The participants will be working with pre-defined characters, so that more time can be spent on animating them and creating a film with existing elements. We will also work with sound segments of animation (whirring, music, voice-overs).

The practical part of recording whirrs and voice-overs for jingles will be done following a presentation and an explanation, and we will learn how to implement music into the final product in the most practical way.
Along with all of these segments, we have to emphasise that the focus of the workshop will be independent and low-budget production, as well as technical solutions and tricks these productions use to realise their projects as best and as professional as possible. The participants will learn how they can use a computer and several computer programs to start making their animated films.

• APPLICATION FORM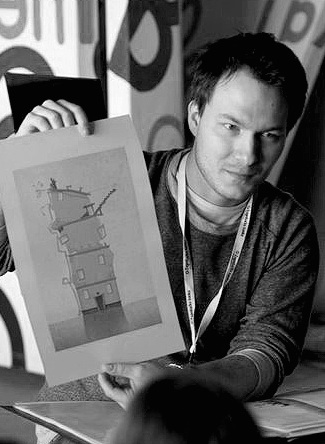 Manuel Šumberac was born in 1988 in Pula. In 2007 he graduated from the Graphic Design Department of the Pula's School of Applied Arts and Design. The same year he enrolled at the Academy of Fine Arts in Zagreb, Department of Animated Films and New Media. In 2013 he received an MA degree in Animated Film and New Media. During his studies he received a number of best student recognitions. He has made four animated films: Escargot (2010), The Oars (together with Zdenko Bašić, 2011), In the Shadow (2011), and Mechanical Heart (2013) as well as three animated music videos for Croatian musician Gibonni. His film Escargot earned him the second prize at the 42nd Croatian Film and Video Revue and the 1st prize at the Balkans Beyond Borders festival. In 2010 his animated music video Žeđam earned him the Porin music award for best video. He works as illustrator as well.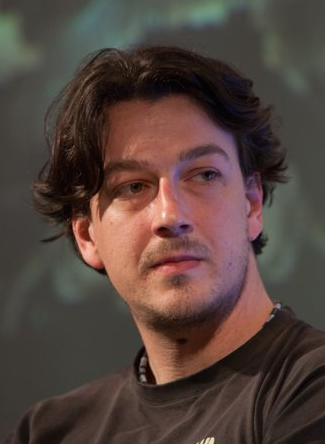 Vibor Juhas was born in 1982 in Pula. He is an illustrator, animator, musician and filmmaker. He is the author of several music videos for bands from Pula and the surrounding places. In 2011 he completed his first short film No Way Out. In 2012, in collaboration with the Monteparadiso Collective, he made his full-length documentary Monteparadiso 20 which premiered at Pula and then travelled to various festivals in Croatia and the surrounding countries. He illustrated the children's book Strahosmijeh and the picture book Ponoć u Parku 52, as well as several short comic books. He is currently working on a new animated film and an interactive picture book. He works as a designer at the Pula festival of books and authors Book Fair(y) in Istria.