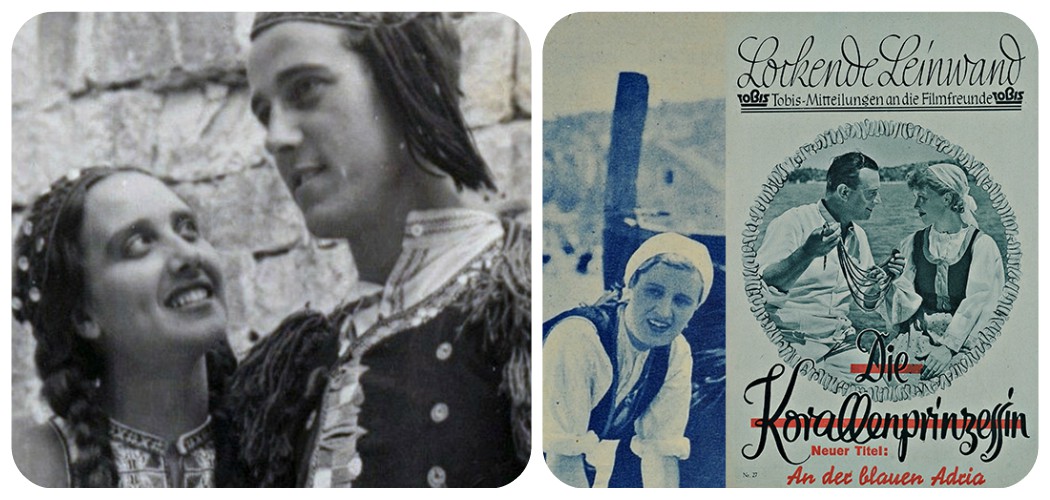 The Time Machine programme has been modelled on cinema programmes from 80 years ago: first the newsreel, followed by a cultural film, and in the end a feature film. The central part of the programme has been set aside for the feature film The Coral Priness from 1937, filmed in Split, Hvar, and mostly on the Island of Zlarin. The then famous Gastarbeiter Svetislav Ivan Petrović and Ita Rina play the leading roles in the film. The score was composed by Ivo Tijardović, a composer from Split, who is better known to the film community as composer of the score for the films The Blue Seagull and Ciguli Miguli. Tijardović also composed the score for the short cultural film Song of the Adriatic, which was filmed alongside The Coral Princess. This Dalmatian version of Romeo and Juliet, the film is 22 minutes of sea, sun and song.
The earliest history of Croatian film is a very fruitful field, as it offers the interested parties a range of unexplored issues that require a systematic approach. In the period between the two World Wars, very few domestic films were filmed, and even less were preserved. However, this does not mean that no films were made. If the domestic film crews could not film, foreign crews arrived, led by recent Croatian compatriots from the Austro-Hungarian Empire, Austria, Hungary and Czechoslovakia, right alongside those from Germany. True greats of the silver screen came to the Adriatic to film in their early careers, such as Alexander Korda, Michael Curtiz and F. W. Murnau. Even Alfred Hitchcock did some location scouting in the Dubrovnik area for his film The Lady Vanishes. The natural beauty of Dalmatia was like Eldorado to foreign film crews. The costs of filming were much lower than in Italy, for example, and the sea and the islands were an exotic luxury that the average European viewer could not afford to see in person. It is entirely obvious that foreign filmmakers did not travel all that way to make a chamber drama. They could have done that in a studio. They filmed entertaining adventure films in Dalmatia, mostly about idle rebels or rich men who, in the idyllic Mediterranean setting, fought monsters, villains or those envious of them with more or less success. If we know that adventure and chase films were the most profitable types of films at that time, it is not hard to assume foreign filmmakers came for the many days of filming in the sun, near the sea and in beautiful scenery.
Along with the screenings of the films, we will also be presenting an almanac of filmography papers about the filming in the Adriatic in 1937. Film archeologists Dejan Kosanović and Daniel Rafaelić analyse The Coral Princess, and Leon Rizmaul analyses Song of the Adriatic. Musicologist Irena Paulus presents the score by Ivo Tijardović. The biography of acting icon Ita Rina is written by Aleksandar Erdeljanović, and the biography of Ivan Petrović by Jugoslav Pantelić.
Leon Rizmaul