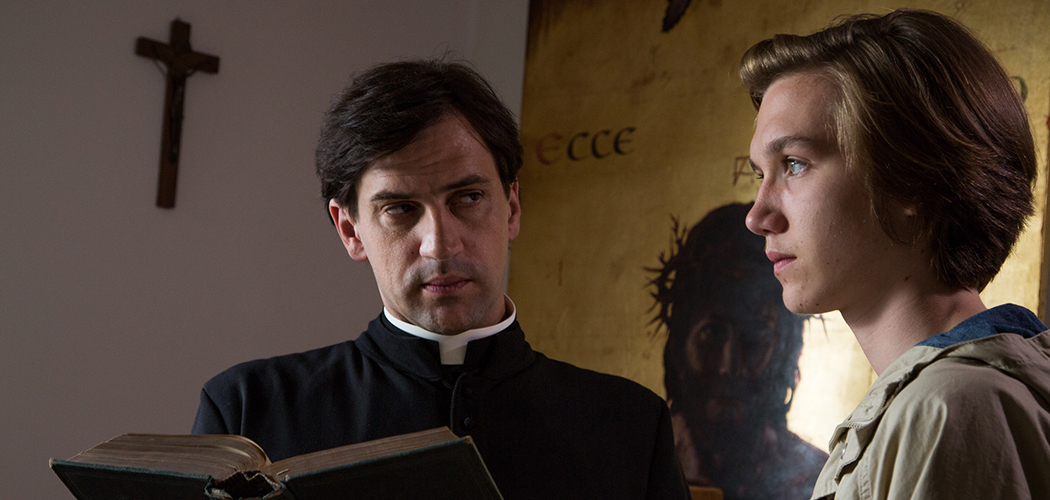 FRIDAY, 21 JULY 2017
JURICA PAVIČIĆ
Agape: A solid, at times also inspired drama, with a resolution which could have been done more elegantly.
DENIS DERK
Agape is a film about human longing and troublesome path towards self-knowledge.
IVAN ŽAKNIĆ
Agape - As much as it would have been attractive in the media, Schmidt's third instalment of the social trilogy is not a film about pedophilia among priests, but about society and the consequences of raging intolerance; there are some stereotypes here and there, but it seems we have reached the phase of evil spirited stereotypes, where the account of the younger generations, inclined to homophobia and violence, is frightening.
DEAN SINOVČIĆ
Agape: A suspect homosexual-pedophilic affair of a liberal priest is a result of media frenzy and street gossip, but even then the Church does the right thing and removes the priest from duty. Schmidt's film, not at all controversial, is solid in its realisation, but conservative in its message.
TOMISLAV ČEGIR
Agape: A film about an unconventional priest who can not deal with the homoerotic tensions and is therefore demoted, equally examines contemporary society and a prestigious topic, but in the hands of an experienced author, it avoids being sensationalistic and is close in its theme to similar films, such as Doubt, directed by John Patrick Shanley.
---
THURSDAY, 20 JULY 2017


JURICA PAVIČIĆ
Dead Fish
A film with an occasional nice spark, but which is oftentimes burdened by being assertively metaphorical and spelling out the point.

The Constitution
A political 'high concept' that skillfully avoids the typical weaknesses of 'high concepts': it does not weaken when it uses up the central bit.


MATE ĆURIĆ
Dead Fish
Milić has literally scanned Mlakić, and whoever did not read the novel (stories) can now say that they have and that they like it, with the film only assisting in the visual transformation. And where Milić's reading in which shootings would be real, and not psychologically suppressed, the blows would be to the face, and not car tires, he could trade poetry for prose or play.

The Constitution
It seems to me that the true story about Vjekoslav's acceptance, that is Katarina's acceptance (the fantastic Nebojša Glogovac) on the road to a tolerant everyday life is stuck in the dark network of politics, just like the curricular reform, which some complain does not have enough Homeland, and some say has too much Nostalgic.


DEAN SINOVČIĆ
The Constitution
By clever use of the social-political situation, and even more clever manipulation of stereotypes, Tomić and Grlić have shown to be masters of film, but the secret of success of this excellent black comedy lies in the brilliant roles played by Glogovac, Aćimović, and Ksenija Marinković.

Dead Fish
The ghost of Jim Jaramusch has entered Kristijan Milić, and has translated his visual poetics and storytelling to Herzegovina, but even though Milić's directing is on the level of his American counterpart, the screenplay is somewhat less ideal, just short of calling this film first-rate.


DENIS DERK
Dead Fish is like a ship full of various things to do, but is not anchored.

The Constitution is a subtle tragicomedy that affirms diversity and absurdity.


TOMISLAV ČEGIR
Dead Fish
While the excellent black and white photography consistently outlines the postwar wasteland and the internal wounds that do not heal, the film, showing the perception of some twenty characters - of which at least a quarter were not exactly necessary, as they do not contribute to the dramatic framework - is finally left without a clearly defined ending, which also diminishes its strength.

The Constitution
The work of a mature film author, precise directing performance, restrained anxiety, and quality acting range, the film easily overcomes any possibility of a cliche of the burden of World War II and national relationships, and the development of the protagonist's homosexuality is far from superficial.
IVAN ŽAKNIĆ
Dead Fish (Kristijan Milić) - The Croatian master of the genre has once again decided to work with Mlakić, on a broken apart narrative structure with almost thirty characters. A film about dead fish and dead landscapes, about dying elephants whose funerals are the only opportunity for international gathering, about cranes who fly somewhere and nowhere. Not all episodes are equally rounded, but in maintaining the tension of guns threatening to go off and mines someone will step on, Milić has once again shown his excellence.
The Constitution (Rajko Grlić) - As well know, the cooperation between Grlić and Tomić has once again not resulted in a comedy, but rather a drama with strong political charge, where the issues of minority and majority are completely distorted.
---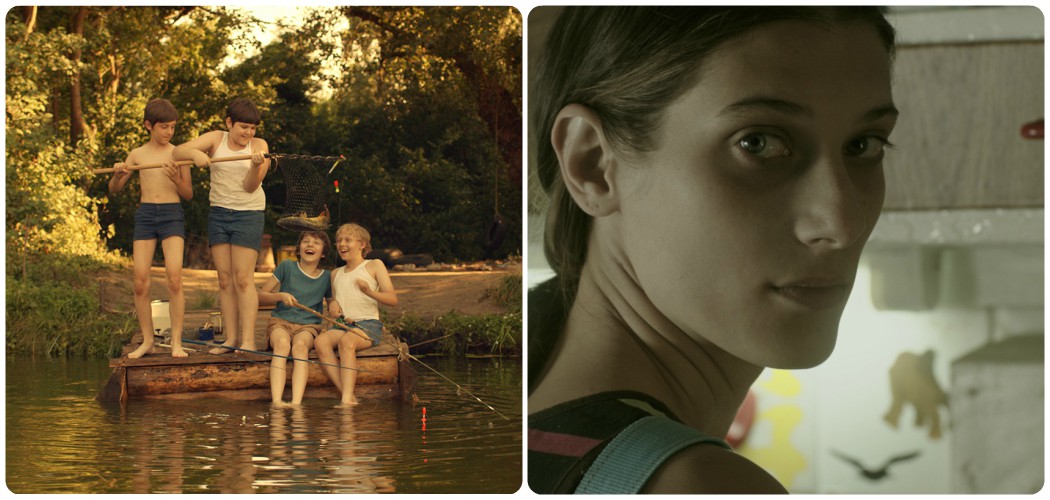 WEDNESDAY, 19 JULY 2017

JURICA PAVIČIĆ
Quit Staring at My Plate
An extraordinary picture of the Mediterranean in the era of crushed patriarchate. In my opinion, the best Croatian film of the decade.

The Mystery of Green Hill
After some unconvincing zigzagging, the series about Koko returned to its original audience - children. Also, it has found the most convincing director so far.


MATE ČURIĆ
The Mystery of Green Hill:
Instead of funny banter with surprise guests from the dark and in the dark, falling into sudden tricky situations, uncontrolled laughter or shy flirting, you feel like you're staring at a warning on the screen - not allowed for persons under the age of 12 - when the film is actually intended precisely for that age.

Quit Staring at My Plate:
At this moment, I can't see a message relating to the Croatian present more clearer or better elaborated than this film. Hana Jušić has given Croatian film what Claire Denis gave to French film and what both have given to the Mediterranean - establishing Šibenik vis-à-vis Zagreb, and Marseilles vis-à-vis Paris, respectively.


DEAN SINOVČIĆ
The Mystery of Green Hill: As a film with younger generations as its targeted audience, it meets the most important criteria - the suspense children can understand, children acting, which does not have to be academic, and a family environment that children can relate to - and this is enough to spark the imagination of younger audiences.

Quit Staring at My Plate: A sad, deeply disturbing, and surgically precise account of traditionalist way of life of a poor family in Dalmatia. Hana Juršić provides a perfect account of emotional slavery of the main character, portrayed by Mia Petričević who has to win the Golden Arena for Best Actress, otherwise the jury will be disgraced.


IVAN ŽAKNIĆ
The Mystery of Green Hill (Čejen Černić) - The first horror scene and the introduction of all of the members of Koko's gang indicate what this film is: Čejen Černić has made the best episode of the series that, unfortunately, came to an end.

Quit Staring at My Plate (Hana Jušić) - With her belated debut, Hana Jušić is sending us a dirtily directed and minutely filmed postcard from the Mediterranean as it always will be. We know even before the Festival - we have our favourite.


DENIS DERK
The Mystery of Green Hill is a complete pleasure for both children and adults.

Quit Staring at My Plate is an astonishing account of the dark side of Croatian patriotic triumphalism.


TOMISLAV ČEGIR
The Mystery of Green Hill
Although it may not be first-rate, this prequel and also the last of the films of the series about Koko is a quality accomplishment with a nostalgic feel and an abundance of emotions in the ending, and as such is undoubtedly significant within the framework of Croatian children's film heritage.

Quit Staring at My Plate
With an almost flawless screenplay and directing performance, this is an intense, often painful and very precise account of alienation of a family, the society, as well as the protagonist herself, as her loneliness also becomes universal.
---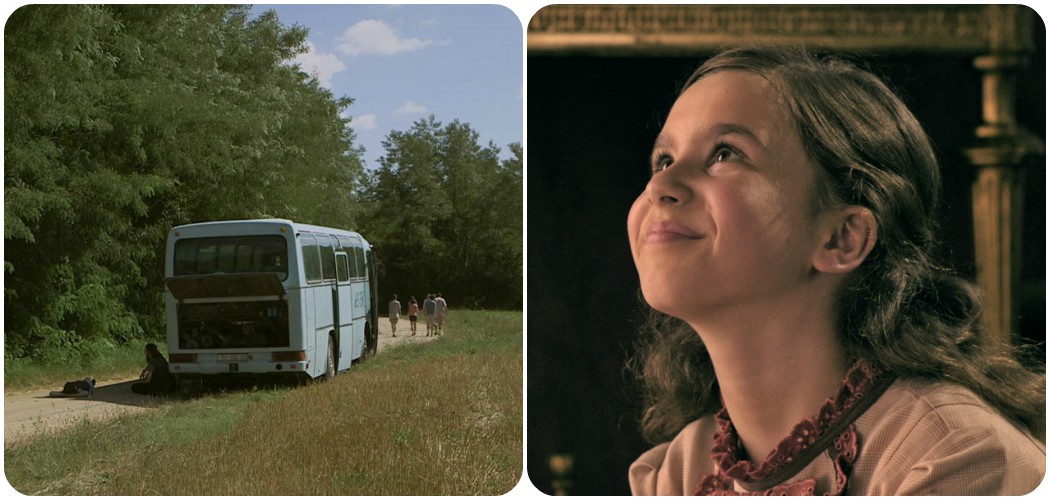 TUESDAY, 18 JULY 2017

DEAN SINOVČIĆ
A Brief Excursion: Metaphysical and full of magical summer atmosphere, with director Bezinović not shying away from showing the roaming of a group of youngsters around Istria and their slow disappearance as a game of real and surreal. The fact that Bezinović at times zigzags through the script is something we will not hold against him, as he is young and inexperienced, and has shown a lot of potential with this film.
Anka: Aćimović has never lacked courage as a director, and has proved it again with his decision to make a children's film for adults that is also a serious children's film, backed up by Eric Cantona as lead actor. This paid off from a genre perspective, even though Cantona was not the ideal choice.
JURICA PAVIČIĆ
A Brief Excursion - An interesting encounter of the 'lost generation' of the 1960s and the generation of today. The best of the low-budget off-projects at this year's Festival.
Anka - A film that has a story, production, tricks, and glamour. Only, it's lacking one thing: a competent director.
DENIS DERK
A Brief Excursion is a film which uses documentary means to detect the present in Istria, but also portrays the young generation.
Anka is a charming fairytale in the vein of Andersen, with an interesting cast and flawless effects; however, Cvita Viljac as lead actress needs to be singled out.
IVAN ŽAKNIĆ
A Brief Excursion (Igor Bezinović) - Although Bezinović was only inspired by the novel by Šoljan, he took over the first-person narrative, Roko "who is guarded by gods", and the mythical Gradina. With precise directing, acting, and an excellent proportion within the hybrid, this is enough to become the highlight of the Festival so far.
Anka (Dejan Aćimović) -Despite all of the directing and acting awkwardness, Dejan and Tatjana Aćimović have done a solid job in adapting the somewhat atypical novel by Lovrak taking place on the eve of the Great War. For this reason, as well as the inclusion of monsters from the novelist's home, we could somewhat pretentiously say that Anka is a watered down version of Pan's Labyrinth, but even that would not be enough for it to see the lights and darkness of the Arena.
TOMISLAV ČEGIR
A Brief Excursion
With an often threatening atmosphere, the relationships between the characters and the natural surroundings, as well as the obvious sense for the visual, strong reliance on out of scene comments and occasional idle moments have shown the development of a number of interesting characters and an impressive film whole.
Anka
The author's step into a different genre, this time the fantastic, is permeated by history and social elements, but in the end, due to the indecisiveness in the resolution, fails to reach full dramatic power.
---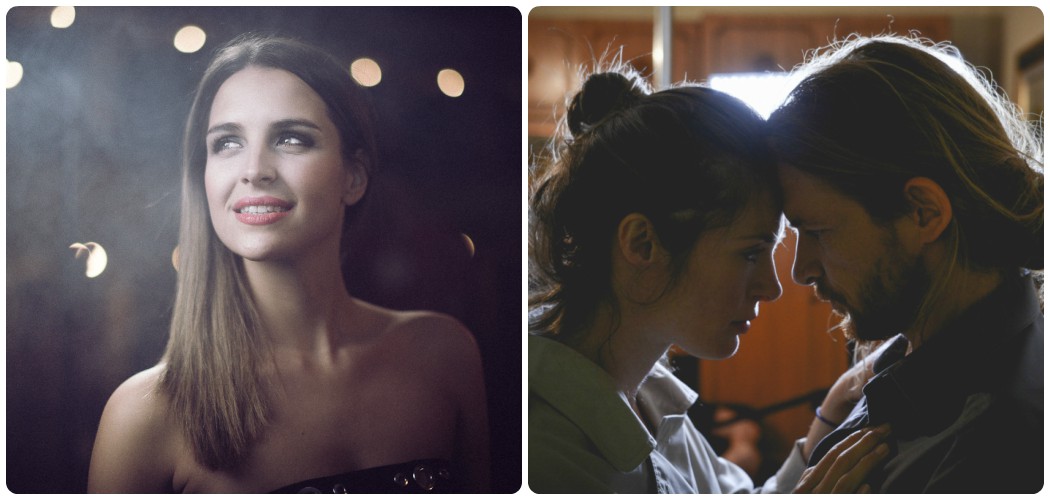 MONDAY, 17 JULY 2017
DEAN SINOVČIĆ
Because of You: Jurkas's debut deserves an A in effort, a B in film culture knowledge, a C in directing, and a D in acting.
Fuck Off I Love You: In his second film, Jurkas shows improvement in directing and his own acting, but the screenplay, which is simply vignettes about male-female relationships, looks like something written by a Bruno Šimleša's follower.
DENIS DERK
Fuck Off I Love You is a realisation of a male dream, as the director chose himself as the lead actor, and is the author of the screenplay that gives him a chance to enjoy the most beautiful actresses of the region.
Because of You is a sporadically extremely funny and fluent collection of several urban short stories in which the author openly admires Urban and Korana Serdarević.
MATE ČURIĆ
The camera loves Jurkas, because he looks better in front of the camera than behind it; and this whole chaos seems like a casting, which might actually bring about characters for a TV plot.
Jurkas and the others should actually have been kept in this short form so they can hone their skills, instead of being brought to the Arena as stars.
IVAN ŽAKNIĆ
Fuck Off I Love You/Because of You (Angelo Jurkas) - Jurkas's electric conjunction of egocentrism, pop culture, pumped up soundtrack, and obsession with celebrities can sometimes fool us, but never so much that we forget how shallow it all is or so much to miss the key question of where is the film in this?
TOMISLAV ČEGIR
FUCK OFF I LOVE YOU:
The author's lack of self-control is the main reason why a potentially quality postmodernist film about male-female relationships fails to achieve more value.
BECAUSE OF YOU
Structured around seven stories, ranging from romantic drama, through drama, and finally to comedy of the absurd, the film required a lot more creative discipline and author's experience in order to be more successful.
JURICA PAVIČIĆ
FUCK OFF I LOVE YOU
A pretentious jumble with a lot of components, none of which are properly explored.
BECAUSE OF YOU
This is what the English call navel-gazing: an array of vignettes about nothing, with bad dialogues, and mundane crises.
---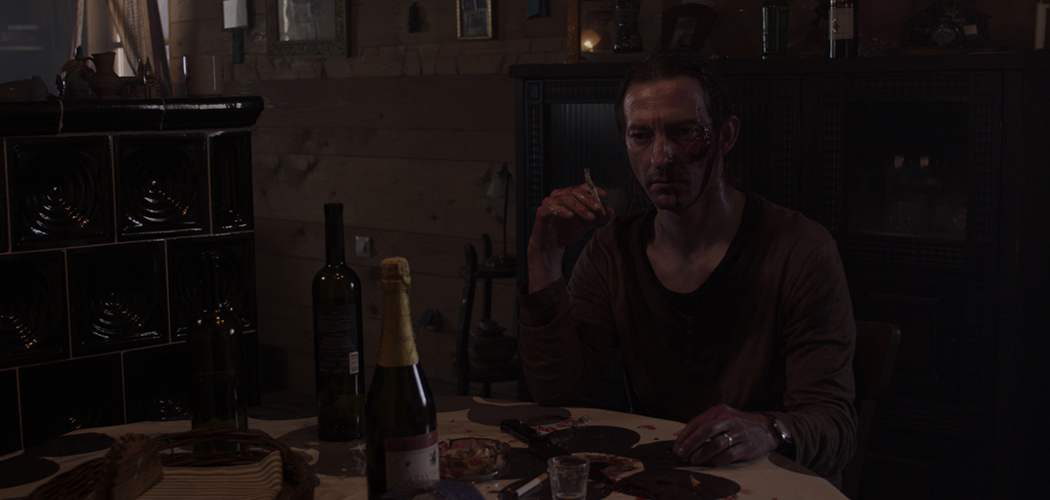 Sunday 16 July 2017
DEAN SINOVČIĆ, Nacional
Goran - Nevio Marasović is a successor of the best of the Cohen brothers and Fargo, not only in the snow-covered landscape, but also the ridiculousness of the characters, the absurdity of the situation, the intelligent plot and bloody resolution, showing it is always a good thing to learn from the best, even in cases where he is, here and there, caught copying.
JURICA PAVIČIĆ
Goran - A thriller with an interesting premise, which falls apart in the end from the screenplay perspective.

DENIS DERK, Večernji list
Goran is a creepy psychological thriller with exceptional music, photography, acting, and above all a sound screenplay.
IVAN ŽAKNIĆ, Croatian Radio
Goran - (Nevio Marasović) - packaged in propaganda in the vain of Scandinavian thrillers, or the Croatian version of Fargo, Goran is actually a tragedy in which the madness of the main character, shown saliently, ends with an unconvincing, but true to the genre, final bloodshed.
TOMISLAV ČEGIR, Filmovi.hr and Vijenac
Goran - With successful acting, quality film photography, and evocative music, but also occasional inconsistencies in the screenplay and some inconsistencies in the directing, this existential drama does not shy away from explicit account of sex or violence, and finally explodes in a bloody confrontation.
MATE ČURIĆ
Goran revives the film charm of Gorski kotar, which we remember as the backdrop for Partisan bonfires on the big screen, but which we now see can be a true Fargo and the ideal setting for cold-warm societal frustrations. The film reveals the harshness of fake friendship, lack of fatherly understanding, marital infidelity, false love, hidden sexuality, and, as if on cue, with no mercy, but openly, everybody getting their dose of punishment.
With his third feature film, Marasović has confirmed his role as one of the most talented young Croatian authors, which can best be seen in a couple of shots in which he summed up the entire story - installing and turning the lock on the improvised sauna.
---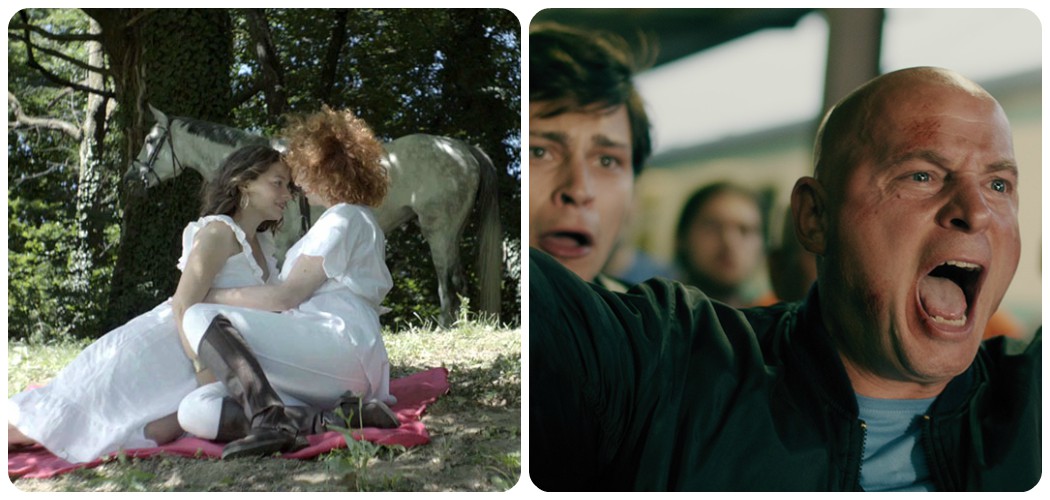 Saturday, July 15, 2017

DENIS DERK, Večernji list
The Avalanche is a successful family comedy with great acting and layered messages.
ZG80 is a film about marginalised persons whose attitudes have become the ideological mainstream.

JURICA PAVIČIĆ, Jutarnji list
The Avalanche is a truly awful film, with no wit and not an ounce of taste.
ZG80 is a film which glorifies no-goods, and unfortunately, lacks sensibility for football mythology.

TOMISLAV ČEGIR, Filmovi.hr and Vijenac
With good acting and a range of directorial stylisations, the film The Avalanche by Stanislav Tomić is an interesting, funny, although not an entirely complete comedy.
Although a prequel to Metastases of sorts, the film ZG80 is its own film, a dynamic and funny account of supporter subculture and international fights on the eve of the break-up socialist Yugoslavia and the Homeland War.

DEAN SINOVČIĆ, Nacional
ZG80 - The prequel to Metastases suffers from a surplus of bad to mediocre punchlines and anecdotes, and a lack of any type of analysis of social and political events that have caused the emergence of Bad Blue Boys.
The Avalanche - In several of the scenes, Stanislav Tomić proves he undoubtedly has a sense for directing a quality comedy of the absurd, but some unknown forces dragged him in the direction of mostly shallow and literal humour.
IVAN ŽAKNIĆ, Croatian Radio

The Avalanche - Although powerful in its libertarian concept, and thematically rests on the chaotic moving of chromosomes which can go either way, Tomić's comedy, unfortunately, is nothing more than its essence - an expanded episode of a sitcom with a feature film on top of it.
ZG 80 - Šeregi's action comedy rests on a period of supporter subculture that has been turned into a myth in this region; it has charm and dynamic directing, but what is most interesting is the development of one of the most notable bad guys in contemporary Croatian film - Krpa, of course. In ZG80 he is nothing more than a notorious hooligan, while in Metastases he is a true sociopath.

MATE ČURIĆ, Glas Istre
The plot in The Avalanche by Stanislav Tomić is such that you don't even think about laughing, and everything else is a quest for an ounce of some type of justification; for example, why Borko's acting or Ugrina's role of Lidija have to fall victim to their goodness, so even Matavulj gave an acceptable performance, even though he has a mask on like he's suffering from constipation.
I'm afraid this story about supporters, ZG80 by Igor Šereki, comes at the wrong time - nobody needs them. Politics doesn't need them, because they can't gather more of them then would fit in two police vans, despite the fact they hate Mamić, Šuker and the likes, and football is at its orime; the clubs don't need them, because they became a ballast for which they were punished; and the public is starting to see more and more that a hooligan remains a hooligan, and that it's his only true role - to blackmail city authorities, sing the same old "For Homeland?! Prepared!" songs, draw swastikas and crack open heads left, right, and centre, while they wait for somebody to come up with an important role for them in the ideologically fertile state-region-topic.