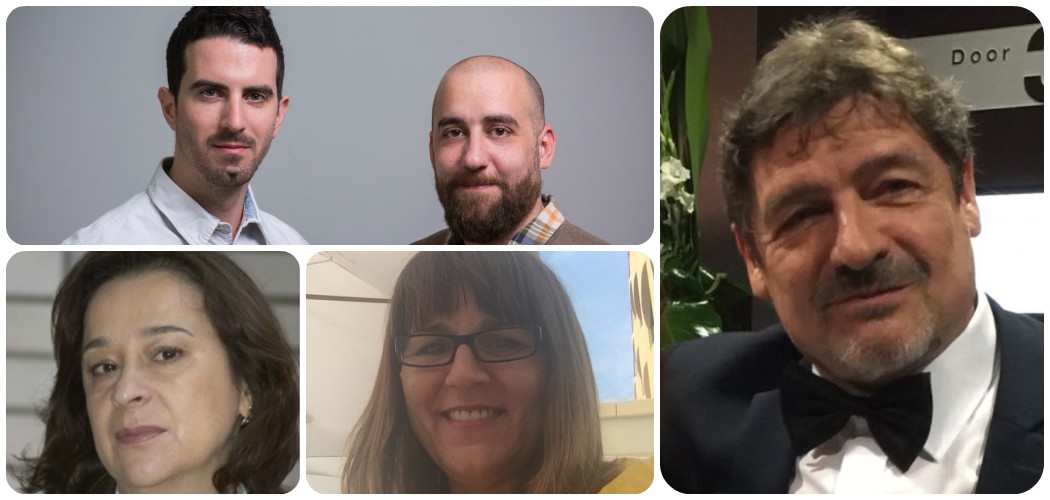 Goran Turković and Marko Šesnić were born in Zagreb, where they graduated in design from the School of Design of the Faculty of Architecture in 2008. In 2006, they founded Šenić&Turković, a graphic design studio. Since the very beginning, they have worked with filmmakers on film posters, opening and closing credits, and have recently started working in all segments of film production. They approach every project with the same fundamental mission: find the best creative solution, which will give it its communicative strength, longevity, and set it apart from the competition. They apply this approach in all fields of work: visual identities, signage, exhibition designs, stand designs, designs of publications, advertisements and promo materials, designs for gift shops, etc. Over the last ten years, Šesnić&Turković have created designs for more than thirty Croatian films and have positioned themselves as one of the leading authors in this field in Croatia.
Jelka Stergel graduated in comparative literature and sociology. In 1989, she established the first Slovenian film distribution at Cankarjev dom, followed by Ljubljana International Film Festival – LIFFe, where she was director for 18 years. She was a member of the jury in Karlovy Vary, Cannes (Directors' Fortnight), Trieste, etc. She is the vice-president of the programme council of RTV Slovenia, representative of Slovenia in Eurimages, and head of international relations at Slovenian Film Centre.

Ankica Jurić Tilić graduated in comparative literature from the Zagreb University Faculty of Arts. She is also a graduate of EAVE, member of ACE, Producers on Move and EFA. Her filmography includes more than 20 feature-length films, several TV series, and a number of shorts. Her films for children based on Ivan Kusan's novels were successful in theatres whereas, out of the recent titles, "Zvizdan" by Dalibor Matanić and "Quit Staring at My Plate" by Hana Jušić gain international acclaim. "Zvizdan" premiered in official programme of Cannes 2015, winning 30 awards afterwards, and Jusic's film premiered at Venice Days 2016. So far, it won 15 international film awards.
Bert Beyens studied film directing in Brussels Belgium at RITCS (now: Royal Institute for Theatre, Cinema and Sound, School Of Arts Erasmus University College). In 1988 he made Jan Cox A Painter's Odyssey, feature length documentary (co-writer-director Pierre De Clercq). The film won the Prize for best Biography at the International Festival for Film on Art, Montreal 1989. Bert Beyens worked for film and television until he was asked to join the film department of RITCS as full time teacher (1994). In 2001 Bert Beyens was appointed director of the school. He served 3 mandates of four years (2001-2013). Between 2005 and 2009 he was on the board of VAF (Flemish Film Fund). He was member of the VAF advisory commission for documentary tv-series (2011-2013). Currently he is in the VAF commission for Fiction Features. From 2008 to 2010 he was Vice President for Finance and Fundraising CILECT. Between 2010 and 2014 he was treasurer on the board of GEECT (European Film Schools organization). Since October 2014 he is President of GEECT and member of the CILECT Executive Council. He is member of the Guild of Belgian Directors. Bert Beyens is also a member of the European Film Academy (EFA).